This website uses cookies. By using this site, you consent to the use of cookies. For more information, please take a look at our
Privacy Policy
.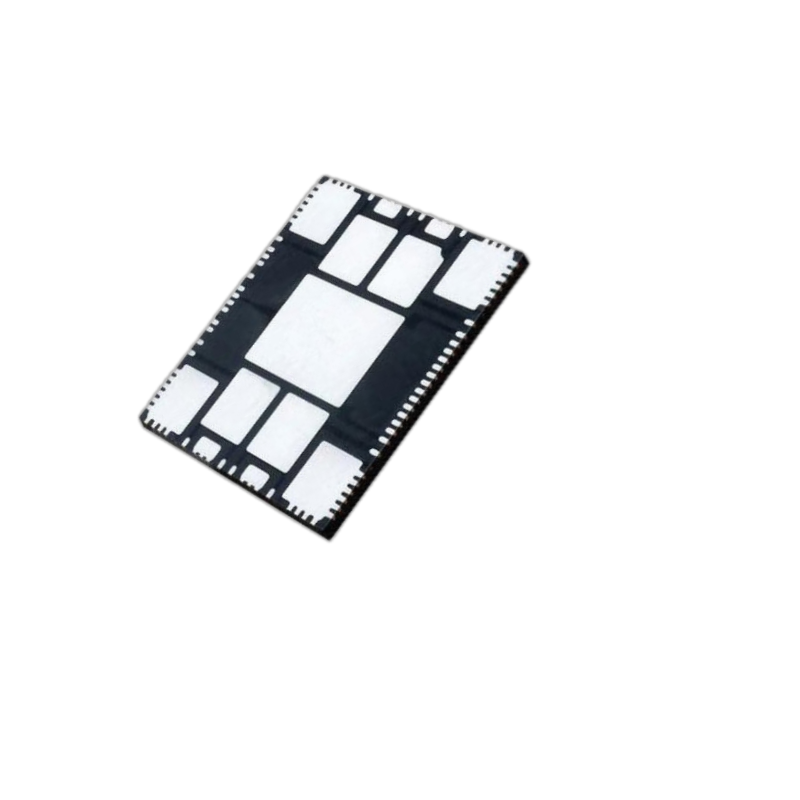 Images are for reference only See Product Specifications
ST STSPIN32F0252Q
Motor / Motion / Ignition Controllers & Drivers 250 V three-phase controller with MCU
RoHS Status:
Stock Condition: 2791 pcs, New Original
0
1
Add To Bom
STSPIN32F0252Q General Description
The STSPIN32F025x is a system in package providing an extremely integrated solution suitable for driving three-phase applications.It embeds an MCU (STM32F031x6x7) featuring an ARM® 32-bit Cortex®-M0 CPU and a 250V triple half bridge gate driver, able to drive N-channel power MOSFETs or IGBTs.A comparator featuring advanced smartSD function is integrated in the device, ensuring fast and effective protection against overload and overcurrent.The high-voltage bootstrap diodes are also integrated, as well as anti cross-conduction (interlocking), deadtime and UVLO protection on both the lower and upper driving sections, which prevents the power switches from operating in low efficiency or dangerous conditions. Matched delays between low and high-side sections guarantee no cycle distortion.The integrated MCU allows performing FOC, 6-step sensorless and other advanced driving algorithm including the speed control loop.It has WR and RD protection for embedded flash memory to prevent unwanted writing and reading, and it can be put in standby mode to reduce the power consumption.The MCU provides 21 general-purpose I/O ports (GPIO) with 5 V tolerant capability, one 12-bit analog-to-digital converter with up to 10 channels performing conversions in a single-shot or scan modes, 6 synchronizable general-purpose timers and supports an easy to use debugging serial interface (SWD).All of the integrated features of STSPIN32F025x make design of the application PCB easier, and result in reduced PCB area consumption, bill of material and overall application cost.
Features
Three-phase gate drivers

High voltage rail up to 250 V
dV/dt transient immunity ±50 V/ns
Gate driving voltage range from 9V to 20V

Driver current capability:

STSPIN32F0251/Q: 200/350 mA source/sink current
STSPIN32F0252/Q: 1/0.85 A source/sink current

32-bit ARM® Cortex®-M0 core:

Up to 48 MHz clock frequency
4-kByte SRAM with HW parity
32-kByte Flash memory with option bytes
used for write/readout protection

21 general-purpose I/O ports (GPIO)
6 general-purpose timers
12-bit ADC converter (up to 10 channels)
I2C, USART and SPI interfaces
Matched propagation delay for all channels
Integrated bootstrap diodes
Comparator for fast over current protection
UVLO, Interlocking and deadtime functions
Smart shutdown (smartSD) function
Standby mode for low power consumption
On-chip debug support via SWD
Extended temperature range: -40 to +125 °C
Package:

TQFP 10x10 64L pitch 0.5 Creepage 1.2 mm
QFN 10x10 72L pitch 0.5 Creepage 1.8 mm
Specifications
| Parameter | Value | Parameter | Value |
| --- | --- | --- | --- |
| Manufacturer: | STMicroelectronics | Product Category: | Motor / Motion / Ignition Controllers & Drivers |
| RoHS: | Details | Product: | Brushless DC Motor Controllers |
| Type: | 3 Phase | Operating Supply Voltage: | 20 V |
| Output Current: | 80 mA | Operating Supply Current: | 950 uA |
| Minimum Operating Temperature: | - 40 C | Maximum Operating Temperature: | + 125 C |
| Mounting Style: | SMD/SMT | Package / Case: | QFN-72 |
| Packaging: | Tray | Brand: | STMicroelectronics |
| Moisture Sensitive: | Yes | Operating Frequency: | 800 kHz |
| Output Voltage: | - 10 V to 250 V | Pd - Power Dissipation: | 4.5 W |
| Product Type: | Motor / Motion / Ignition Controllers & Drivers | Series: | STSPIN32F025 |
| Factory Pack Quantity: | 1008 | Subcategory: | PMIC - Power Management ICs |
| Unit Weight: | 0.009171 oz | | |
Shipping
Shipping Type
Ship Fee
Lead Time
DHL
$20.00-$40.00 (0.50 KG)
2-5 days
Fedex
$20.00-$40.00 (0.50 KG)
2-5 days
UPS
$20.00-$40.00 (0.50 KG)
2-5 days
TNT
$20.00-$40.00 (0.50 KG)
2-5 days
EMS
$20.00-$40.00 (0.50 KG)
2-5 days
REGISTERED AIR MAIL
$20.00-$40.00 (0.50 KG)
2-5 days
Processing Time:Shipping fee depend on different zone and country.
Payment
Terms of payment
Hand Fee
Wire Transfer
charge US$30.00 banking fee.
Paypal
charge 4.0% service fee.
Credit Card
charge 3.5% service fee.
Western Union
charge US$0.00 banking fee.
Money Gram
charge US$0.00 banking fee.
Guarantees
1.The electronic components you purchase include 365 Days Warranty, We guarantee product quality.
2.If some of the items you received aren't of perfect quality, we would resiponsibly arrange your refund or replacement. But the items must remain their orginal condition.
Packing
Step1 :Product

Step2 :Vacuum packaging

Step3 :Anti-static bag

Step4 :Individual packaging

Step5 :Packaging boxes

Step6 :bar-code shipping tag
All the products will packing in anti-staticbag. Ship with ESD antistatic protection.
Outside ESD packing's lable will use ourcompany's information: Part Mumber, Brand and Quantity.
We will inspect all the goods before shipment,ensure all the products at good condition and ensure the parts are new originalmatch datasheet.
After all the goods are ensure no problems afterpacking, we will packing safely and send by global express. It exhibitsexcellent puncture and tear resistance along with good seal integrity.
STSPIN32F0252Q FAQ
Where can I find the Datasheet PDF for STSPIN32F0252Q?

You can find the Datasheet for STSPIN32F0252Q on this page. If it is not available, you can contact our sales team to inquire about the Datasheet for this part.

Do I need to register an account to request a quote?

No, you do not need to register an account. Simply submit the required product quantity, contact name, and email in the QUICK QUOTE section on the current page, and our sales team will contact you as soon as they receive your email.

Will I receive an order confirmation email?

Yes, you will receive a confirmation email when you place your order. Once your order is shipped, you will also receive another confirmation email containing a tracking number.

Can I view the order for the STSPIN32F0252Q model or all my past orders?

Yes, you can view the status of your current orders and your order history by logging in or registering an account online. Log in or Register an account now.

What is the pinout for STSPIN32F0252Q?

Generally, our product pages include pin diagrams, pinouts, and pin details for the STSPIN32F0252Q part. If you cannot find the information you need, you can contact Ovaga at [email protected], and our customer support team will get in touch with you as soon as possible to address your concerns.

What is the lifespan of STSPIN32F0252Q?

The lifespan of STSPIN32F0252Q depends on various factors, including the quality of components, operating conditions, and usage. Please refer to the datasheet of STSPIN32F0252Q for specific information.
We provide high quality products, thoughtful service and after sale guarantee
We have rich products, can meet your various needs.

Minimum order quantity starts from 1pcs.

Lowest international shipping fee starts from $0.00

365 days quality guarantee for all products